Just Say No to Drugs ... at Lunch
Just Say No to Drugs ... at Lunch
Recently, a group of us at the Center were reviewing photographs of school lunches from around the country. A milk carton on one lunch tray really caught our eyes. I've recreated a version of it here: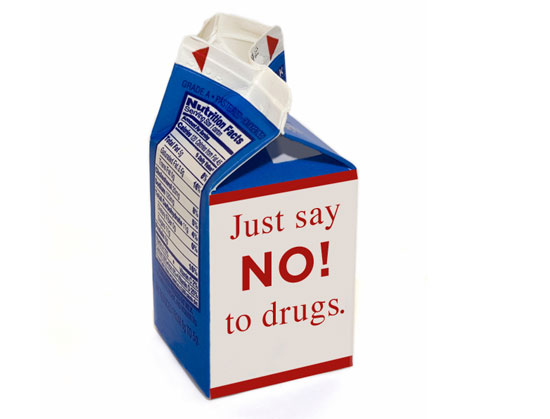 Now, we can all agree that harmful drugs have no place in the lives of young people, but what about the drugs inside this milk carton? Industrially produced milk can contain up to half a dozen or more different drugs, principally hormones and antibiotics, some genetically engineered, and many banned outside the United States for reasons related to human and animal health. And because cows on factory farms are milked up to 300 days per year, including while they are pregnant, even "natural" hormones in milk can run exceptionally high, to levels that many experts believe pose unacceptable health risks.
What would Socrates do?
Inquiry for the classroom using Socratic dialogues
• The federal government requires that many packaged foods be labeled with information about their nutritional content. Do you think nutritional content is all the information consumers really need about the food they eat? Do you think consumers need to know facts about how a food item was produced? For example, do you want to know what kind of food an animal may have eaten or what drugs it may have received? Are there more things or different things that you would like to know about the food you buy and eat?
• Who should be responsible for the information the packaging conveys? The government? The farmer? The food company? The package designer?