Summer Reading Suggestions
Summer Reading Suggestions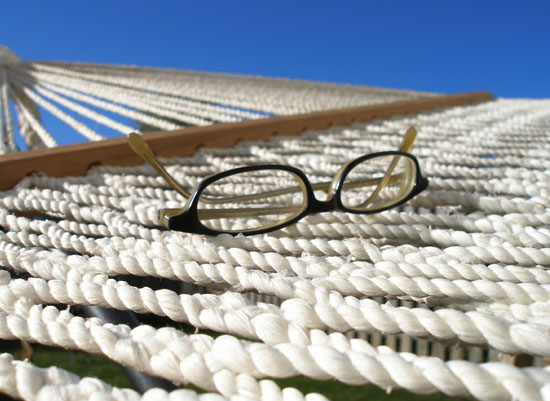 On the lookout for mental and spiritual nourishment this summer? Center for Ecoliteracy staff members suggest a dozen books that are informing and inspiring us. We invite you to share your recommendations below.
The Age of Empathy: Nature's Lessons for a Kinder Society, by Frans de Waal (2010: Three Rivers Press)
Dr. de Waal challenges the portrayal of nonhuman animals as simple-minded, unemotional beings capable only of ruthless aggression and selfish competitiveness. He offers convincing examples and research showing that animals exhibit a wider range of responses, including self-awareness, empathy, and grief.
The Best of It: New and Selected Poems, by Kay Ryan (2010: Grove Press)
Kay Ryan received the 2011 Pulitzer Prize for this volume of witty, incisive, and surprising poems, many infused with images and insights drawn from paying close attention to nature.
The Bond: Our Kinship with Animals, Our Call to Defend Them by Wayne Pacells (2011: William Morrow)
The Bond is a revolutionary exploration of our deep, historical bond with other creatures and ways we have broken that bond with disastrous results. Wayne Pacelle offers compelling evidence that we must rebuild our bond by creating a more humane economy based on stewardship and care for all living things.
Food Justice, by Robert Gottlieb and Anupama Joshi (2011: The MIT Press)
Robert Gottlieb and Anupama Joshi offer a vision for "ensuring that the benefits and risks of where, what, and how food is grown and produced, transported and distributed, and accessed and eaten are fairly shared," with hopeful stories of efforts to remake food systems on behalf of this vision.
The Heirloom Tomato: From Garden to Table: Recipes, Portraits, and History of the World's Most Beautiful Fruit, by Amy Goldman (2008: Bloomsbury USA)
Master gardener Amy Goldman presents the pick of the 500 varieties she grows on her farm, along with a treasure of tomato lore, recipes, and a guide for growing your own. See also her Melons for the Passionate Grower and The Compleat Squash.
In Your Garden, by Vita Sackville-West (2006: Frances Lincoln)
Well remembered for her novels, poems, and other literary works, Vita Sackville-West also wrote a gardening column in the London Observer, which sometimes drew as many as a thousand letters a week. They're reproduced in this and three succeeding volumes. Her spontaneous approach to gardening is reflected in the fresh, appealing manner with which she inspired confidence in amateurs, regardless of their limited space and challenging conditions.

The Information: A History, a Theory, a Flood, by James Gleick (2011: Pantheon)
From African talking drums to DNA, dictionaries to quantum computers, James Gleick surveys the landscape of information and our quest to understand how we shape and are shaped by our communications.
A Pig in Provence: Good Food and Simple Pleasures in the South of France, by Georgeanne Brennan (2008: Mariner Books)
Our colleague and friend (and award-winning cookbook author) Georgeanne Brennan recounts her love affair with Provence while celebrating community, tradition, and life lived in harmony with place and nature's rhythms.
The Small House Book, by Jay Shafer (2009: Tumbleweed Tiny House)
Bay Area designer and builder Jay Shafer provides examples of finely constructed, low-square-footage, DIY, environmentally sensitive, mortgage-free housing. A leader in the small house movement, Jay has received international attention from BBC News, The New York Times, Oprah, CNN, and others.
The Tao of Physics: An Exploration of the Parallels between Modern Physics and Eastern Mysticism, by Fritjof Capra (Thirty-fifth anniversary edition 2010: Shambhala)
Fritjof Capra's groundbreaking book is still reshaping minds after thirty-five years.
Thinking in Systems: A Primer, by Donella H. Meadows (2008: Chelsea Green Publishing)
Dana Meadows understood systems deeply, explained them clearly, and dedicated her life to making a difference in a world of systems. She discusses here how systems work, how they change, and how to "expect, appreciate, and use the world's complexity."
What Matters? Economics for a Renewed Commonwealth, by Wendell Berry (2010: Counterpoint)
In this collection of essays written over the past quarter-century, Wendell Berry offers his "ground-level" vision of an economy that puts nature first and consumption last, distinguishes between needs and wants, and grants firm precedence to needs. As always, his talk is both straight and lyrical.