Big Ideas: A New Alignment with Academic Standards
Big Ideas: A New Alignment with Academic Standards
A Center for Ecoliteracy – National Geographic partnership.
This addition to the Center for Ecoliteracy's Big Ideas suite of resources was created for publication on the National Geographic Education website in conjunction with National Geographic magazine's 2014 series of articles, "The Future of Food." Big Ideas (2014) identifies key concepts that link food, culture, health, and the environment.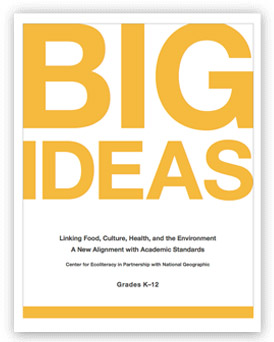 Big Ideas aligns these concepts with the following recent academic standards:
Common Core State Standards
Next Generation Science Standards
College, Career, and Civic Life Standards (also known as C3)
National Health Education Standards
California Nutrition Competencies (from Nutrition Education Resource Guide for California Public Schools, Kindergarten through Grade Twelve)




Download Big Ideas: Linking Food, Culture, Health, and the Environment: A New Alignment with Academic Standards (6 mb PDF)
A previous Big Ideas publication (2008) provided an extensive conceptual road map based on benchmarks of the American Association for the Advancement of Science and linking food, culture, health, and the environment.
The Future of Food series (May – December 2014) traced the development of our dominant food system and associated issues, and profiles promising strategies to create systems for nourishing ourselves while serving people, communities, and the natural environment.
In addition to Big Ideas, the Center made other resources available for use on the National Geographic Education website throughout the period of the Future of Food series. See "Related Content" at right for examples.
The Big Ideas resources are published by Learning in the Real World®, the publishing imprint of the Center for Ecoliteracy.