Los Angeles Unified School District: A New System for Purchasing Food for School Meals
Los Angeles Unified School District: A New System for Purchasing Food for School Meals
What school district food service wouldn't want to improve the quality of its meals, promote healthy eating and change the attitudes of students toward food, support regional agriculture and the local economy, contain costs, simplify operations, and increase its ability to try out new ideas?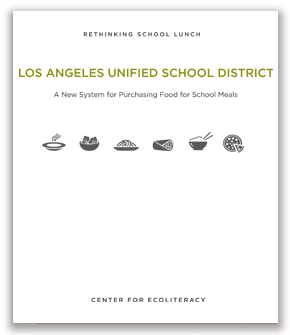 To address these objectives simultaneously, the Food Services Division of the Los Angeles Unified School District (LAUSD) has completely overhauled its system for purchasing food, shifting from an Invitation for Bid (IFB) to a Request for Proposal (RFP) process. It's as much a change in basic philosophy as a change in procedure — from contracting for goods to contracting for services.

The change has helped the district lower costs, improve meal quality, add new menu offerings, dramatically increase the percentage of food purchased from within 200 miles, and begin to change the image of school food in the district.


Download the Center for Ecoliteracy report (3.6mb pdf)
This report, part of the Center's California Food for California Kids™ initiative, discusses how LAUSD made these changes and their impact to date, and suggests the potential for these innovations spreading to other districts.

The documents below are sample Request for Proposal materials prepared by the Los Angeles Unified School District for potential applicants interested in serving as the district's categorical partner in three categories. They include overviews of the procurement process, qualification requirements, evaluation criteria, and submittal packages. We provide them for readers wanting a more thorough understanding of the process. Questions about them should be directed to LAUSD's Food Services Division.
LAUSD RFP: Categorical Partnering on Miscellaneous Food Item (2.3 mb pdf)
2012 Request for Proposal to provide dry goods, canned goods, spices and condiments, frozen fruits and vegetables, pork products, seafood products, and assorted other food items. (85 pages)
LAUSD RFP: Categorical Partnering for Food-Processing (3.1 mb pdf)
2010 Request for Proposal for processing of "raw" bulk commodity food into commercial product for the district. (72 pages)
LAUSD RFP: Categorical Partnering on Food-Related Paper & Plastic Products (2.3 mb pdf)
2012 Request for Proposal to provide food-service-related paper goods and plastic products. (87 pages)