What We Do
The Center for Ecoliteracy advances the teaching and modeling of sustainable practices in K–12 schools.
Staff Board Advisors Supporters Report
We build partnerships and the capacity of K–12 schools to support healthy, sustainable school communities and food systems change in schools. The Center for Ecoliteracy leads systems change initiatives, publishes original books and resources, facilitates conferences and professional development, and provides strategic consulting. We work at multiple levels of scale, with local, regional, state, and national programs.
Our California Food for California Kids® initiative builds the capacity of public school districts to provide students with fresh, locally-grown food and reinforce connections between the classroom, cafeteria, and garden. With a network of over 100 public school districts across the state, California Food for California Kids advances practical solutions that transform school food systems and how students learn about the food they eat.
In 2021, the Center for Ecoliteracy successfully advocated for California to become the first state to adopt universal school meals as a co-sponsor of the Free School Meals for All Act and a core member of the School Meals for All coalition. We are proud to be part of California's leadership in transforming school food and recognizing the important role of school nutrition professionals.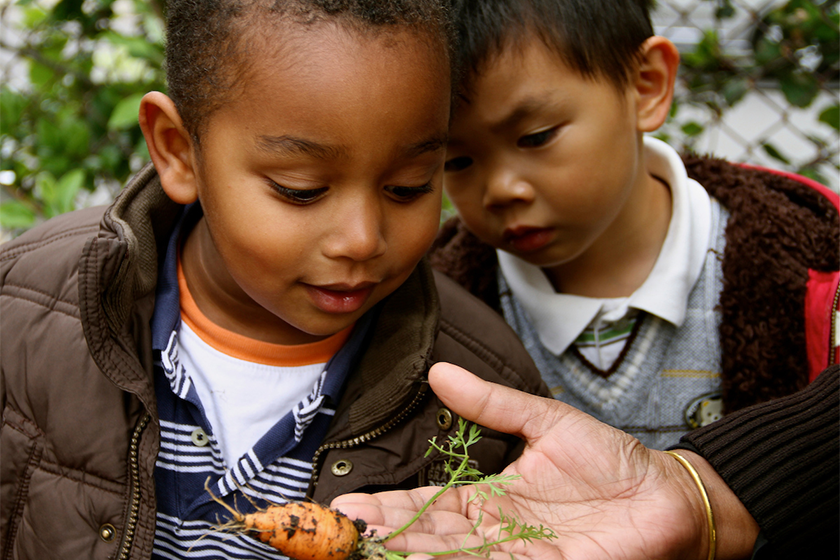 MISSION
We are dedicated to cultivating education for the sustainability of people and the planet.
VISION
We envision a world where all students experience and understand how nature sustains life and are inspired to live in ways that benefit people and the environment.
All schools can do this by committing to cultivating ecological literacy through transformational experiences in the cafeteria, classroom, and garden that educate students about the food system and its connection to the environment.
OUR COMMITMENT TO EQUITY AND RACIAL JUSTICE
We pursue change in K-12 education and school food systems to provide a more just, sustainable, and equitable experience for our children and the people who nourish them.
We recognize the harm that systemic racism, gender bias, and structural inequalities create in our public education, food, and labor systems, and strive to mitigate the health and educational inequities affecting low-income households and children of color. We amplify the voices of people that have been historically marginalized, and shape our work according to their messages. By listening and taking action to identify and include missing voices, we seek to shift power in both policy and decision-making. We are privileged to learn from our partners and will continue to grow and evolve our work to embody this commitment.
Background
The Center for Ecoliteracy was founded in 1995 by Fritjof Capra, author and systems thinker; Peter Buckley, business leader, farmer, and philanthropist; and Zenobia Barlow, a pioneer in creating models of schooling for sustainability. We are located in the award-winning David Brower Center in Berkeley, California.
The Center for Ecoliteracy supports leaders in cultivating conditions for social impact and sustainable systemic change. Major projects include California Thursdays®, our implementation strategy for healthy, freshly prepared school meals from California-grown food, advanced through our statewide network of school districts serving more than 334 million meals a year. Our Education for Sustainable Living seminars have attracted participants from five continents and 40 states.
We have authored or co-authored eight books, including Ecological Literacy: Educating Our Children for a Sustainable World; Smart by Nature: Schooling for Sustainability; and Ecoliterate: How Educators Are Cultivating Emotional, Social, and Ecological Intelligence. Our Rethinking School Lunch Guide has provided structure and insight for districts across the country. (Its parent project, The Food Systems Project, was ranked among the "top ten funding successes of the decade" by one of its principal funders, the USDA). Our online educational resources include Big Ideas: Linking Food, Culture, Health, and the Environment; Making the Case for Healthy, Freshly Prepared School Meals; and the discussion guide for the Academy award-nominated documentary, Food, Inc.