2021 Leadership and Innovation Awards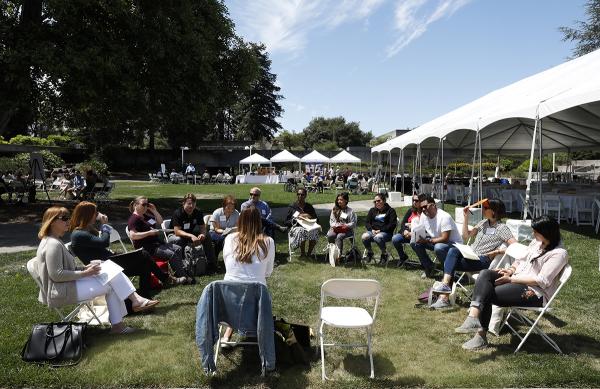 SAN LUIS COASTAL UNIFIED SCHOOL DISTRICT
California Food for California Kids 2021 Leadership Award
Erin Primer, Director of Food and Nutrition Services
Erin Primer has been instrumental in fostering a strong farm to school culture in her district and developing close relationships with farmers and producers in the "hyper-local" area—many ingredients served at San Luis Coastal are sourced within 15 miles. Erin saw the challenges of the pandemic as an opportunity to recommit to her farm to school program rather than put it on hold, an outlook that proved fruitful for the evolution of the district's meal program. Her approach provided a new avenue of support to local farmers and businesses during the pandemic, and she ensures that students discover connections to their local food and farmers, too. She led her team in incorporating new meatless menu options for students and has been a champion of fresh, healthy school meals since her start in food service over a decade ago.
PALM SPRINGS UNIFIED SCHOOL DISTRICT
School Food Policy Advocacy Award
Stephanie Bruce, MBA, Director of Nutrition Services
Stephanie Bruce is a fierce advocate for universal school meals and was a key voice in California's School Meals for All campaign. In support of School Meals for All legislation in California, she testified at a Senate Education Hearing, co-authored an opinion piece, and met with countless legislators in Sacramento. Stephanie also travels to Washington, D.C. annually to advocate for universal school meals nationwide. Her leadership on school meals advocacy is unmatched. Stephanie's passion comes from a desire to create a more equitable school food system for all California students and was inspired to become an advocate while attending a legislative conference 15 years ago. She is the former legislative chair for the Southern California chapter of the California School Nutrition Association and is an active participant in the California Association of School Business Officials as an instructor and Director on the Eastern Board.
MT. DIABLO UNIFIED SCHOOL DISTRICT
Garden Education and School Food Collaboration Award
Dominic Machi, Director of Food and Nutrition Services and Warehouse
Jennifer Sachs, Chief of Educational Services
Dominic Machi and Jennifer Sachs fostered an interdepartmental collaboration to strengthen connections between garden education and school meals. Together they use a three-pronged approach, underscoring the links between in-class curriculum, meals served in the cafeteria, and garden spaces on campus. Under Jennifer's leadership, the district integrated garden time into the school day through food tastings and class time in the garden. To emphasize connections between the school garden and the cafeteria, Jennifer and Dominic collaborated to redesign their food service and scratch cooking opportunities to connect with the gardening program.
WESTERN PLACER UNIFIED SCHOOL DISTRICT
Community Collaboration in Feeding Children and Families Award
Christina Lawson, SNS, Food Service Director
Christina Lawson built a partnership with the local Latino Leadership Council to deliver meals to families who could not access school meal distribution sites during the pandemic. Their teamwork ensured that families could continue to receive fresh, healthy school meals during an incredibly difficult year. Christina also prioritizes supporting the local community through her meal program. She partners with Spork Food Hub, a pilot project of Fiery Ginger Farm, that aggregates produce from small local farms to distribute to schools. She also prioritizes sourcing from local vendors, including fresh bagels, and plans to incorporate produce sourced from a high school's local garden in the future.
WEST CONTRA COSTA SCHOOL DISTRICT
All-Organic Procurement and Food Distribution Award
Barbara Jellison, Director of Food Services
Barbara Jellison's team partnered with Conscious Kitchen to procure organic produce for their meal boxes during pandemic meal distribution service. The boxes provided 100% organic items, including produce, proteins, milk, meats, and whole grains. We celebrate Barbara for centering farm-to-school values during a school year unlike any other, and providing healthy, organic ingredients to students!
PAJARO VALLEY UNIFIED SCHOOL DISTRICT
Nutrition Education and Enrichment for Virtual Learners Award
Linda Liu, RD, Director of Food and Nutrition Services
Linda Liu's team created a virtual cooking workshop for students and families utilizing produce from their pandemic meal box distribution. Families were able to follow step-by-step recipes guided by the District's garden and nutrition educator to make delicious and nutritious school meals at home. Materials were offered in both English and Spanish for families within the Pajaro Valley Unified community. As a result, over 250 families participated!
September 29 2021
show