Ecoliterate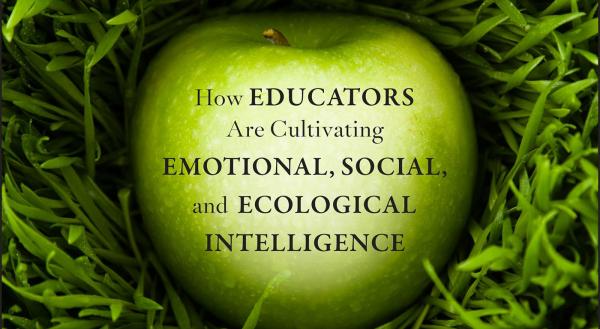 "If there is one book on education that needs to be read by every teacher on the planet, Ecoliterate is that book."
Laurie Lane-Zucker, cofounder and former executive director, The Orion Society,
founder and CEO of Hotfrog
Hopeful, eloquent, and bold, Ecoliterate: How Educators Are Cultivating Emotional, Social, and Ecological Intelligence offers inspiring stories, practical guidance, and an exciting new model of education that builds — in vitally important ways — on the success of social and emotional learning by addressing today's most important ecological issues.
This book reveals how educators can advance academic achievement; protect the natural world on which we depend; and foster strength, hope, and resiliency.
Ecoliterate is the result of an innovative collaboration between Daniel Goleman — bestselling author of Emotional Intelligence and Social Intelligence — and Lisa Bennett and Zenobia Barlow of the Center for Ecoliteracy.
It tells stories of pioneering educators, students, and community leaders engaged in issues related to food, water, oil, and coal in communities from the mountains of Appalachia to a small village in the Arctic; the deserts of New Mexico to the coast of New Orleans; and the streets of Oakland, California to the bucolic hills of Spartanburg, South Carolina.
Ecoliterate also presents five core practices of emotionally and socially engaged ecoliteracy and a professional development guide.
PRAISE FOR ECOLITERATE:
"Powerful and persuasive."
Sir Ken Robinson, creativity expert and author of The Element: How Finding Your Passion Changes Everything
"Gutsy, eloquent, moving."
Frances Moore Lappé, author of EcoMind: Changing the Way We Think, to Create the World We Want
"This book is a treasure. Crucial for educators, a gift to the next generation, a realistic ray of hope for us all."
Susan Griffin, author of Woman and Nature: The Roaring Inside Her
"Beautifully written, accessible, and urgently important."
Michael Ableman, farmer and author of From the Good Earth, On Good Land, and Fields of Plenty
"The worlds of thought and action have been fundamentally changed by the delineation of emotional, social, and ecological intelligences. In this pioneering book, Dan Goleman and his collaborators demonstrate — in vivid and compelling fashion — how education can be transformed through a synthesis of these intelligences."
Howard Gardner, Hobbs Professor of Cognition and Education, Harvard Graduate School of Education
THE AUTHORS
Daniel Goleman is an internationally known psychologist, former New York Times science reporter, and author of the classic Emotional Intelligence (with 5 million copies in print worldwide). He's also written Social Intelligence, Primal Leadership, Vital Lies, and his latest book: Ecological Intelligence: How Knowing the Hidden Impacts of What We Buy Can Change Everything.
Lisa Bennett is a longtime writer about the environment, education, and equality. Her writing has appeared in The Christian Science Monitor, The Chronicle of Higher Education, and The New York Times and books including The Compassionate Instinct: The Science of Human Goodness; Smart by Nature: Schooling for Sustainability; and A Place at the Table: The Struggle for Equality in America. She blogs at the Huffington Post.
Zenobia Barlow is the executive director and cofounder of the Center for Ecoliteracy and coeditor of Ecological Literacy: Educating Our Children for a Sustainable World. Barlow has led the Center's grant making, educational, and publishing initiatives, including Rethinking School Lunch, since its inception. She serves on the board of directors of the David Brower Center and is a Fellow of the Post Carbon Institute.
May 4 2012
show